Rowe's IGA Supermarkets
Recipes
https://rowes.iga.com/Recipes/Detail/7957/Tres_Leches_Cake_with_Berries_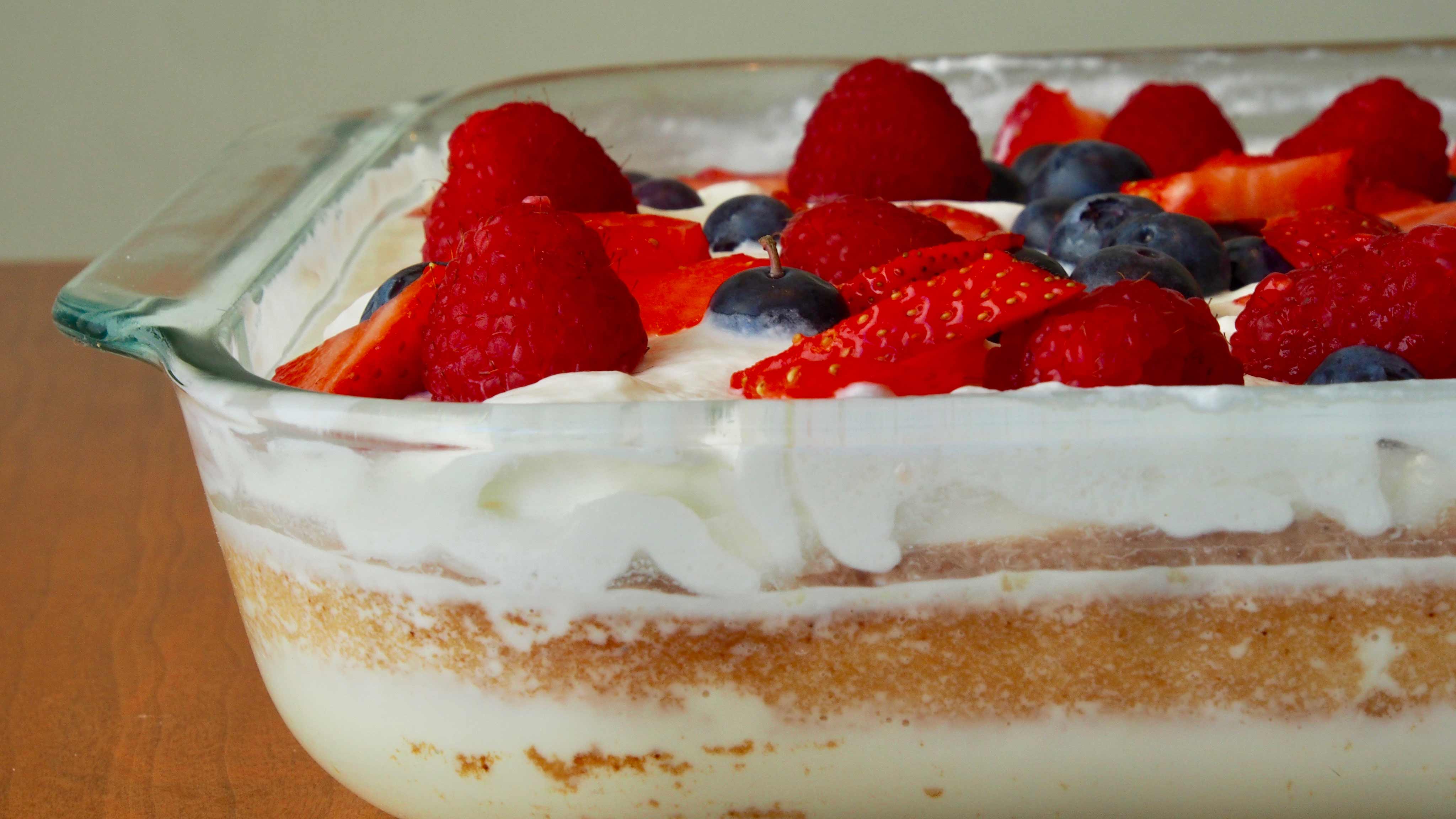 Tres Leches Cake with Berries
Yield: 12 servings
Preparation Time: 20 min; Total: 50 min
Ingredients
Cake:

1/2
cup

(1 stick) butter, melted and cooled, plus more to grease baking dish

1 1/2
cups

all purpose flour

1
teaspoon

baking powder

1/2
teaspoon

coarse salt

5

large eggs

3/4
cup

granulated sugar

1
teaspoon

pure vanilla extract

Tres Leches Mixture:

1
can

(14 ounces) sweetened condensed milk

1
can

(12 ounces) evaporated milk

3
cups

heavy whipping cream

Topping:

1
cup

heavy whipping cream

1/4
cup

granulated sugar

2
cups

fresh raspberries

2
cups

fresh strawberries, hulled and sliced

1
cup

fresh blueberries
Directions:
Cake:
Preheat oven to 350 degrees F

Lightly butter or grease a 9-by-15-inch glass baking dish.

Set aside melted butter to cool.

In a bowl, whisk together flour, baking powder and salt.

In another large bowl, using an electric mixer, beat eggs, 3/4 cup sugar and vanilla on high until pale and thick.

With mixer on low, gradually add flour mixture to combine.

Then, using a rubber spatula, fold in melted butter. The addition of the butter will coat the mixture and help pull it away from the sides of the bowl. Transfer this batter to the glass dish and distribute batter evenly.

Bake for 30 minutes, rotating halfway through until top is golden brown and a toothpick inserted in the center comes out clean.

Tres Leches Mixture:
While the cake is baking, in a medium bowl, whisk together condensed milk, evaporated milk, and 3 cups of heavy cream.

When the cake has finished baking, remove from oven and poke the warm cake all over with a fork or wooden skewer. Pour milk mixture over top and let the cake cool to room temperature.

Topping:
Immediately before serving, make the whipped cream by beating 1 cup of heavy cream with 1/4 cup sugar to medium peaks using an electric mixer.

To serve, spread whipped cream evenly over cool cake and top with fresh berries.

Note:
Refrigerate cake for 4 to 8 hours and up to 3 days.

Recipe adapted from Martha Stewart
Photo and food styling by Webstop
Please note that some ingredients and brands may not be available in every store.
Rowe's IGA Supermarkets
Recipes
https://rowes.iga.com/Recipes/Detail/7957/