Rowe's IGA Supermarkets
Recipes
https://rowes.iga.com/Recipes/Detail/6209/Grilled_Pineapple_and_Chili_Pork_Tenderloin_with_Mesclun_Greens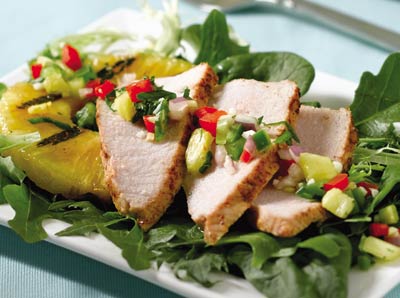 Grilled Pineapple and Chili Pork Tenderloin with Mesclun Greens
Diabetic Friendly
Yield: Serves 4
Ingredients
Chutney:

1/4
cup

red pepper, diced small

1/4
cup

green pepper, diced small

1/4
cup

red onion, diced small

1
cup

fresh pineapple, diced small (reserve the remaining pineapple)

1/2
teaspoon

fresh ginger, minced

1/2
teaspoon

fresh garlic, minced

2

scallions, diced

1
teaspoon

cilantro, minced

1/2
teaspoon

chili powder

1/4
teaspoon

cumin

3
Tablespoons

rice wine vinegar

Tenderloin:

1
lb.

pork tenderloin

1
teaspoon

extra virgin olive oil

Salt to taste

Pepper to taste

Chili powder to taste

4
slices

pineapple, 1-inch thick

3
cups

mesclun greens
Nutrition Facts
Yield: Serves 4
Approximate Nutrient Content per serving:
Calories:
309.5
Calories From Fat:
72
Total Fat:
8.9g
Saturated Fat:
2.7g
Cholesterol:
89.5g
Sodium:
86mg
Total Carbohydrates:
25g
Dietary Fiber:
4g
Sugars:
.4g
Protein:
33.7g
Directions:
Chutney:
Mix all chutney ingredients together and reserve. Prepare chutney while grill is heating up.

Tenderloin:
Rub tenderloin with small amount of olive oil. Season with salt and pepper. Sprinkle with chili powder.

Slice reserved pineapple into 1/2-inch thick slices. Grill pork tenderloin on all sides on medium high to an internal temperature of 150 degrees F. (approximately 10 to 12 minutes). While pork is grilling, grill the pineapple slices. Remove pineapple and pork and let rest for approximately 5 minutes.

Lay down a bed of Mesclun greens. Shingle the grilled pineapple slices over the greens. Slice pork on the bias in 1/4-inch thick slices and shingle in the center of the plate against the grilled pineapple. Spoon chutney over sliced pork.
Please note that some ingredients and brands may not be available in every store.
Rowe's IGA Supermarkets Recipes
https://rowes.iga.com/Recipes/Detail/6209/Grilled_Pineapple_and_Chili_Pork_Tenderloin_with_Mesclun_Greens